It looks like Nintendo dropped the hammer on indie developer, Amir Rajan and pulled his recently released text-based RPG, A Dark Room from the eShop recently. Apparently the game had an "Easter Egg" in it that included a code editor.
Amir posted the news on his Mastodon social media account saying that he had a "crazy announcement". Here was his post……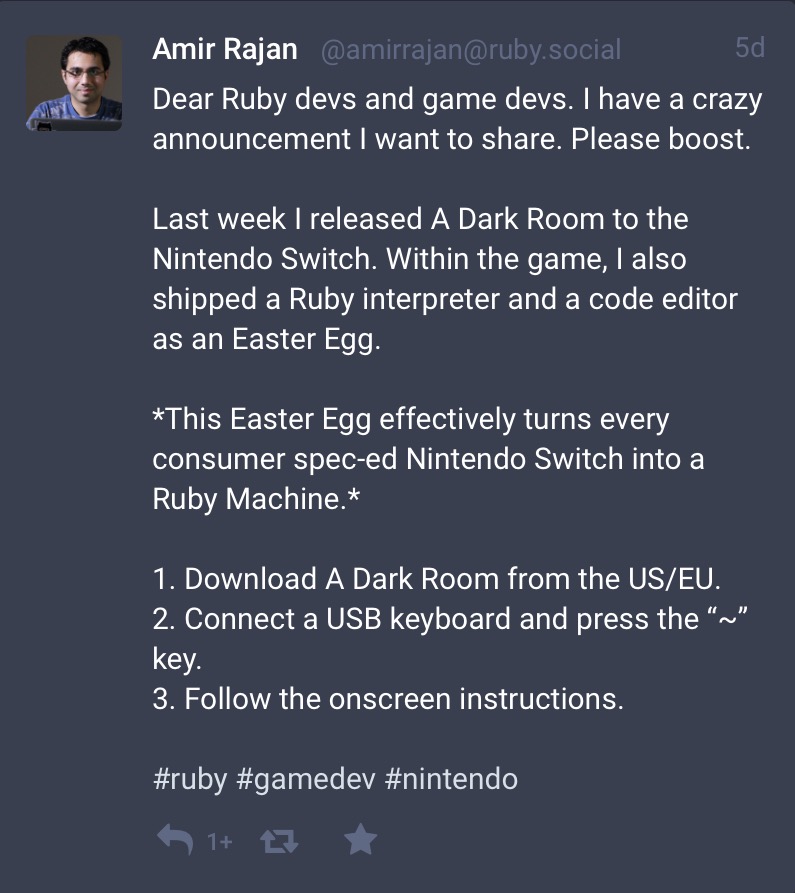 Now, I've never heard of a Ruby interpreter, but after a quick Google search, a Ruby interpreter is pretty much a high-level programming language that would allow players to write and run their own custom apps on the Switch without having to perform any kind of hacks.
Rajan spoke with Eurogamer recently about the "incident".
"I deeply regret how this has blown up. A simple toy sandboxed environment has been framed as this massive exploit. And of course it's the community that exploits these things that pushed it up to that level. I'm partly to blame with my sensationalised media posts. I acted alone and stupidly. It was a last second 'spark of inspiration' and I snuck it in assuming that plugging in a USB keyboard and pressing the "~" key wasn't part of the test plan.
Having Circle deal with some of this cannon fire is not something I'd ever want. These past three days have been the worst days of my life. And I don't know what to say except I'm sorry, and all I wanted to do was allow kids (and coding adults that have forgotten the joy) to discover what I discovered 25 years ago.
The narrative that has played out online is exactly what's wrong with this trashcan fire of a world.
Everyone is an armchair expert. Everyone thought the worst. You've seen that I've been called a dick, idiot, and everything in between. Because sensationalised news sells. If the narrative was 'I added a sandbox to A Dark Room that lets you mod the game and provide a medium for kids to code (and technical parents to show their kids what they do),' it would have gone unnoticed."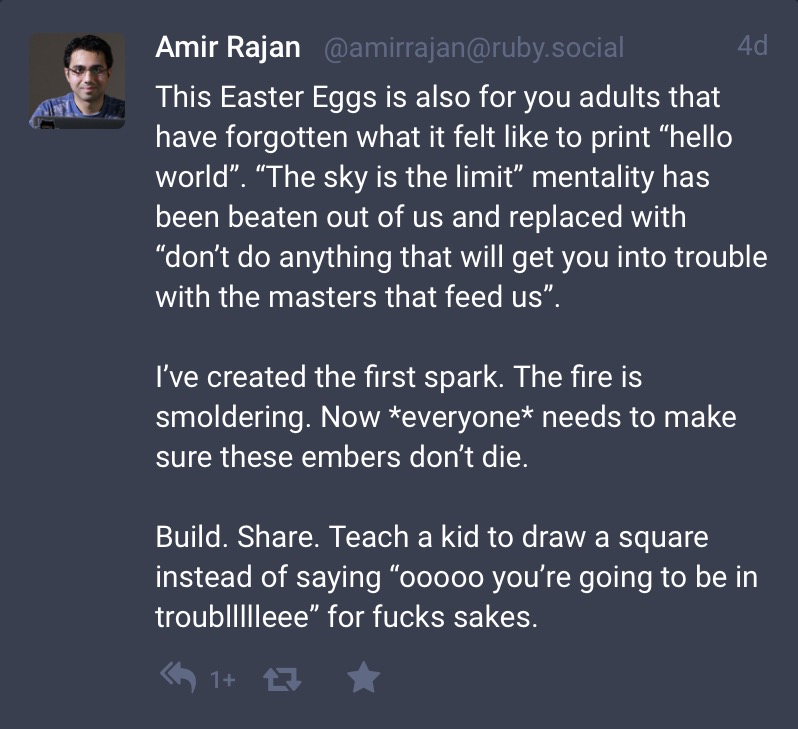 I'm on the fence on this one. I understand Nintendo being pissed about it, but I also understand that people like modding and messing around with the devices that they technically own. We've seen this stuff hidden in apps on the App Store and Google Play for awhile now. I honestly think that Amir's intentions were good. He's a developer that's passionate about his work. I can side with that. I'm thinking he should have been a little more discreet about it and let the players find it on their own. But, who knows! Maybe it was all just a PR stunt to get sales! Regardless, A Dark Room is not available on the eShop at this moment.
NOEN (@hashtagNOEN)