It's a new month glitches!! May is here and Spring is in the air. Do you smell that?? It smells like FREE GAMES!!
Yes, every month we get a new batch of "free" games from Sony and Microsoft. Well, that is if you are PS Plus and/or Xbox Live gold members. This month looks to have a pretty good batch of games (although I'm not seeing any for my PSVITA). Here's the list for both PlayStation and Xbox.
---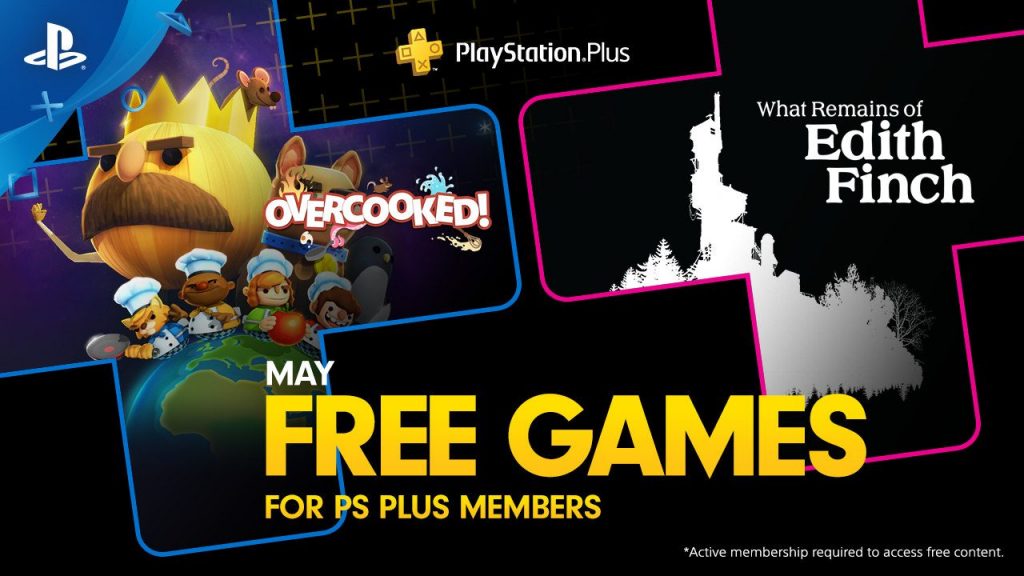 Overcooked! (PlayStation 4)
Overcooked is a chaotic couch co-op cooking game for one to four players. Working as a team, you and your fellow chefs must prepare, cook and serve up a variety of tasty orders before the baying customers storm out in a huff. Sharpen your knives and dust off your chef's whites, there isn't mushroom for error and the steaks are high in these crazy kitchens!
What Remains of Edith Fitch (PlayStation 4)
What Remains of Edith Finch is a collection of short stories about a cursed family in Washington state.
Each story offers a chance to experience the life of a different family member with stories ranging from the early 1900s to the present day. The gameplay and tone of the stories are as varied as the family members themselves. The only constants are that each is played from a first-person perspective and that each story ends with that family member's death. It's a game about what it feels like to be humbled and astonished by the vast and unknowable world around us.
---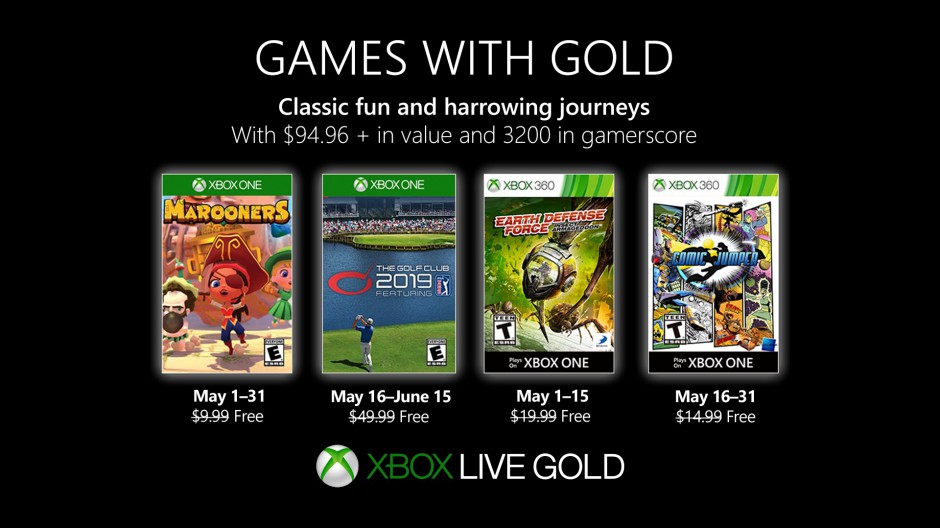 Marooners (Xbox One) May 1-31
Play a wild mix of fun party games as the action regularly switches back and forth between games. Can you handle the switcheroo chaos? Join your friends both on the couch and online while sadistically laughing at their misfortune, or come back to haunt them if you die. Run, jump and slap your way to victory!
Earth Defense Force: Insect Armageddon (Xbox One/Xbox 360) May 1-15
Thousands of giant insects and aliens once again ravage the earth, and only the Earth Defense Force can stop them. Destroy these monsters at all costs, even if it means turning entire city blocks into rubble!• Raw hardcore shooter satisfaction returns in this follow up to Earth Defense Force 2017• New! Intense 3 player online co-op multiplayer and 6 player survival modes• New! Collect over 300 weapons across 4 upgradeable armor types: Jetpack, Battle, Tactical, and Trooper.
The Golf Club 2019 (Xbox One) May 16 to June 15
Do you have what it takes to win PGA TOUR's FedExCup? Compete in the all new officially licensed PGA TOUR Career mode. Play on famous courses like TPC Boston, TPC Sawgrass and more. Show off your skills as you take part in PGA TOUR events such as the Shriners Hospitals for Children Open, the John Deere Classic and the Waste Management Phoenix Open. Take on Career Rivals throughout the season for that extra challenge and promise of reward.
Comic Jumper (Xbox One/Xbox 360) May 16-31
Here we are, it's impulse buy time. You already know how awesome "Comic Jumper" is going to be from that sweet demo, but maybe you need more. How about a free premium dashboard theme? Free gamerpics? Free avatar accessories? Yes. Tons of unlockables and bonuses? How about a few new "Splosion Man" levels for good measure? "Comic Jumper" comes from Twisted Pixel Games, creators of the award-winning "Splosion Man" and "The Maw".
---
That's all folks! Most of these games are available now. (The Golf Club 2019 and Comic Jumper will be available in a couple weeks.) Enjoy your "free" games!!
@hashtagNOEN (finding a balance)