(The Weekly Attack is kind of a "heads-up" on what is coming up in the video game industry for the week.)
IT'S A BRAND NEW WEEK GLITCHES!! Time to see what the hell is going on this week for new games!!
Last week was a pretty good week for new games. Games like My Friend Pedro, Yakuza 5, and even Crash Team Racing. This week we have the highly anticipated, Bloodstained launching. So regardless, it's going to be a great week! But, if that type of game isn't your thing, we also have Mario Maker 2 on the Switch and The Sinking City on PS4, Xbox One, and PC. Also, if you want to see what's going on in the mobile world this week for new games, make sure to check out the daily iOS Roundup!
Anyway, here's this week's ATTACK on new games!!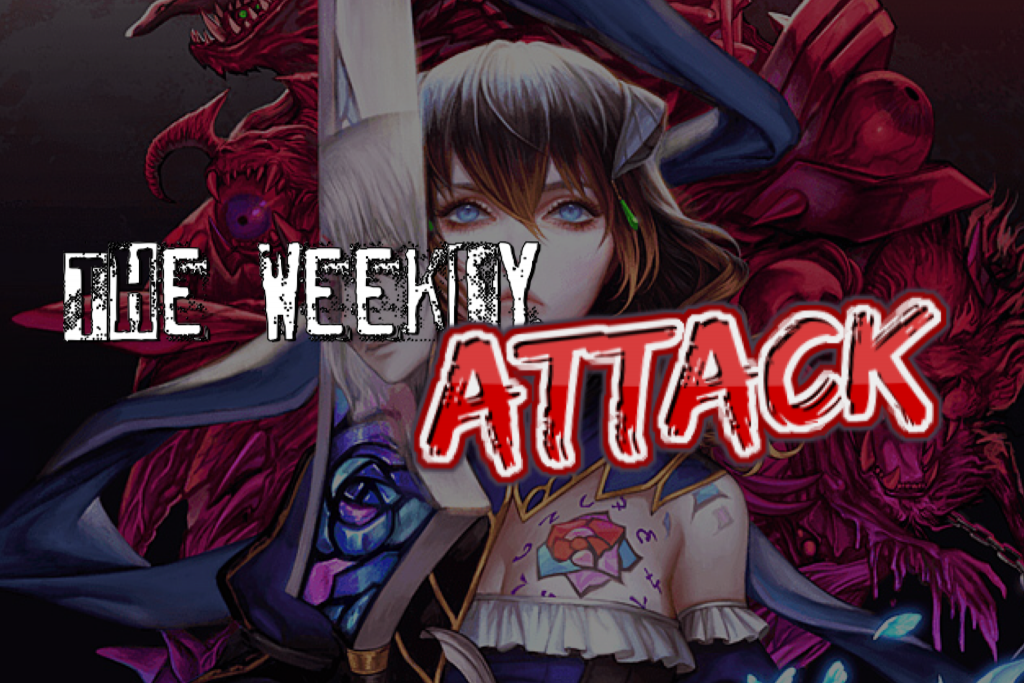 ---
MONDAY June 24
Heavy Rain (PC)
Senran Kagura Reflexions (PC)
Azuran Tales: TRIALS (Nintendo Switch)
Devil May Cry (Nintendo Switch)
TUESDAY June 25
Bloodstained: Ritual of the Night (Nintendo Switch)
We. The Revolution (Nintendo Switch)
Super Neptunia (Nintendo Switch)
Judgment (PlayStation 4)
Monster Jam Steel Titans (PC, PS4, Xbox One)
We. The Revolution (PS4, Xbox One, Switch)
Samurai Shodown (PS4, Xbox One)
WEDNESDAY June 26
Irony Curtain (PS4, Switch, Xbox One)
Shadow Fencer Theatre (PC, Xbox One)
THURSDAY June 27
MotoGP 19 (Nintendo Switch)
Goonya Fighter (Nintendo Switch)
"Sega Ages" Wonder Boy: Monster Land (Nintendo Switch)
"Sega Ages" Virtua Racing (Nintendo Switch)
Dandy Dungeon- Legend of Brave Yamada (Nintendo Switch)
Graveyard Keeper (Nintendo Switch)
Chiki-Chiki Boxy Pro Wrestling (Nintendo Switch)
Nekopara Vol. 3 (Nintendo Switch)
Baobabs Mausoleum Ep. 2 (Nintendo Switch)
Lines X (Nintendo Switch)
Irony Curtain (Nintendo Switch)
Epic Astro Story (Nintendo Switch)
Rain City (Nintendo Switch)
Human Rocket Person (Nintendo Switch)
Bitlogic: A Cyberpunk Arcade Adventure (Nintendo Switch)
Q-YO Blaster (Nintendo Switch)
Samurai Shodown (PlayStation 4, Xbox One, Nintendo Switch, PC)
The Sinking City (PlayStation 4, Xbox One, PC)
Fort Boyard (PC, PS4, Xbox One, Switch)
Furwind (PS4, Vita, Xbox One, Switch)
Tour de France 2019 (PS4, Xbox One)
War Tech Fighters (PS4, Xbox One, Switch)
FRIDAY June 28
F1 2019 (PlayStation 4, Xbox One, PC)
Super Mario Maker 2 (Nintendo Switch)
Rally Rock N' Racing (Nintendo Switch)
Headball Soccer Deluxe (Nintendo Switch)
Real Drift Racing (Nintendo Switch)
Spell Casting: Purrfectly Portable Edition (Nintendo Switch)
Maddening Euphoria (Nintendo Switch)
Another Sight (Nintendo Switch)
---
(Any mistakes or missed releases will be added to the list asap!)
NOEN (@hashtagNOEN)