(The Weekly Attack is kind of a "heads-up" on what is coming up in the video game industry for the week.)
IT'S A BRAND NEW WEEK GLITCHES!! Time to see what the hell is going on for new games!!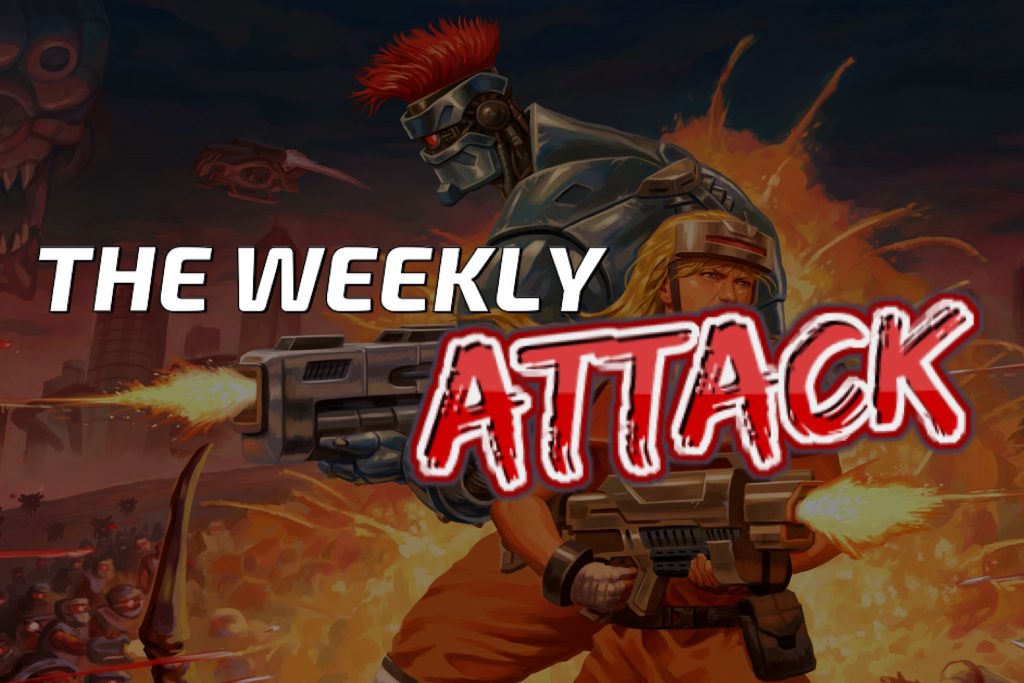 It's summertime, so last week was kind of slow. We did have a few good games release like Stranger Things 3, and the Red Faction: Guerrilla remaster. This week seems to be a bit better with games like Blazing Chrome and Dragon Quest Builders 2. If your a fan of mobile games, Dr. Mario World is releasing this week on iOS and Android. Don't forget to check out our iOS Roundup with all the other releases this week.
---
MONDAY July 8
~No New Releases~
TUESDAY July 9
Bear With Me (PS4, Xbox One,Nintendo Switch)
Senran Kagura Peach Ball (Nintendo Switch)
Sairento (PS VR)
Hyperlight Ultimate (Nintendo Switch)
Senran Kagura Peach Ball (Nintendo Switch)
WEDNESDAY July 10
Space Dance (PC)
Godhood – Steam Early Access (PC)
Space Dance- Steam Early Access (PC)
Dr. Mario World (Android, iOS) Check iOS Roundup
SolSeraph (PC, PS4, Xbox One, Nintendo Switch)
Grass Cutter (Nintendo Switch)
SolSeraph (Nintendo Switch)
THURSDAY July 11
Skulls of the Shogun: Bone-A-Fide Edition (Nintendo Switch)
Blazing Chrome (PC, PS4, Xbox One, Nintendo Switch)
Dead in Vinland (Nintendo Switch)
Tiny Metal: Full Metal Rumble (PC, Nintendo Switch)
Professor Lupo and his Horrible Pets (PC, Nintendo Switch)
Doodle God: Crime City (Nintendo Switch)
Nelly Cootalot: The Fowl Fleet (Nintendo Switch)
Eagle Island (Nintendo Switch)
Metaloid: Origin (Nintendo Switch)
Wayout (Nintendo Switch)
Vector Wars (Nintendo Switch)
Psyvariar Delta (Nintendo Switch)
FRIDAY July 12
Dragon Quest Builders 2 (PlayStation 4, Nintendo Switch)
God Eater 3 (Nintendo Switch)
Fire Emblem: Three Houses (Nintendo Switch)
Streets of Rogue (Nintendo Switch)
Super Mutant Alien Assault (Nintendo Switch)
Mad Bullets (Nintendo Switch)
Lethal League Blaze (Nintendo Switch)
---
(Any missed games, corrections, or surprise releases will be added ASAP.)
NOEN (@hashtagNOEN)