(SNAPP Reviews aren't really a full-fledged game review as much as they are just a way for us to give you a quick "heads-up" on whether a game is good or not. It usually means that we haven't finished the game yet, but have played a good enough chunk to know whether or not it's worth your time/money.)
Bumpin' Dungeon is a swipe-based puzzle game by indie developer, Moby Pixel. You play as a character named, Hanny as she tries to escape the "Bumpin' Dungeon". The object is to make it out of each of the 120 rooms in the least moves as possible. Controls are easy with simple swipes in the direction you want Hanny to move. Each level is unique in its own way. Some levels have a certain pattern you need to take, while others have traps or buttons you'll need to push. There's also enemies that will attack if you don't get to them first. Mob you Pixel did an excellent job with this game. The pixel art is well done and the chiptune music is really catchy. There's a lot of dying and retrying, but not enough to get frustrating. I've been having a lot of fun with this game so far. Every level is a fun surprise. If you're a fan of puzzlers or dungeon crawling, this one is definitely worth checking out. Bumpin' Dungeon is the perfect puzzle game for people who don't like puzzle games.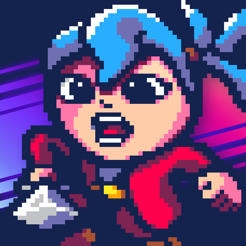 Bumpin' Dungeon is also in this week's SNAPP Roundup.
NOEN (@hashtagNOEN)