(SNAPP Reviews aren't really a full-fledged game review as much as they are just a way for us to give you a quick "heads-up" on whether a game is good or not. It usually means that we haven't finished the game yet, but have played a good enough chunk to know whether or not it's worth your time/money.)
Neon Hook is an 80's style pixel art endless climber by Canadian-based developer, Arytomi Studios. You play as Rika, a young girl trying to escape a black hole that's sucking the city into the abyss. The object is to grapple your way up, while crumbling buildings and other pieces of the city are being broken apart and pulled down. Controls are simple with just tapping in the direction you want to swing your grapple to. The game is randomly generated, so every run is completely unique in its own way. Things can get a bit tough at times with enemies trying to kill you as your frantically trying to find something to hook onto. I absolutely love the whole 80's dystopian future vibe the game gives off. The pixel art is really well done and the synthwave soundtrack is absolutely beautiful. I will say that it's ridiculously tough to gain currency in the game. You can unlock new characters, grapples, ropes, etc., but it seems almost impossible to collect enough money for anything. Regardless, Neon Hook is an absolute gem. If you're into endless high-score chasers (or possibly this week's SNAPP Challenge), definitely give Neon Hook a try.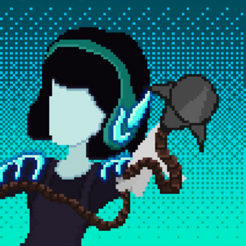 Neon Hook is also in this week's SNAPP Roundup!
NOEN (@hashtagNOEN)
Noen Hook?