(The SWITCH Roundup is an ongoing daily article showcasing recently released titles on the eShop. New games are updated as soon as possible, so check back often.)
IT'S A BRAND NEW RELEASE WEEK ON THE eSHOP GLITCHES!!
Well, after quite a few messages and that HIGHLY official Twitter poll, it looks like the majority of readers prefer a daily SWITCH Roundup of new games, rather than the Weekly Attack lists I've been putting out on Mondays. It's totally fine with me. It's a bit more work, but I'd rather put out content that readers enjoy.
Anyway, last week was a pretty solid week for new games on the Switch. We had games like Rad, In-Vert, Plunge, and even a couple "Sega Ages" titles. The Switch has definitely become this generation's go-to device for indie games. This week is looking like another good week with games like Whipseey, Bubsy, and Deadlings releasing.
So, let's get this week started!!…….oh, wait. Rarely anything ever comes out on Mondays. Well, let's get this week started possibly tomorrow!!
---
~No Releases~
---
Create your dream team by selecting the players who suit you the best. Care for their constant development, train, sign advertising contracts and be active in social media. Thousands of fans aren't going to come to you on their own, you have to work for it.

---
Death is lonely. He has zero friends on his FaceTome account and no one to hang out with. So, in order to feel better he begins "Project Deadlings". Death buys a factory where he can build his laboratory and begin training a massive army of zombie minions.
---
In Eight-Minute Empire, 2-5 players take turns selecting a card from the six displayed. This card gives the player a resource, and also has an action which the player takes immediately. Actions help players take over the map, but the resources are worth points at the end of the game, so players have to balance the two aspects. Players spread across the map in order to collect points at the end of the game by having majority control in regions and continents.
---
In Whipseey and the Lost Atlas you play as Alex, a young boy who's curiosity has landed him in a world of trouble. After finding himself lost in a strange world and being transformed into a magical creature named Whipseey, he must to solve the mystery of the Lost Atlas to return to his original form and go back home.
---
Boreal Blade is a team-based melee fighting game with a focus on player vs player combat. Boreal Blade combines reactionary and tactical gameplay with extraordinary freedom to variate your attacks and develop your unique fighting style.
---
Battle & challenge your human friends on this multiplayer robot party game: 52 ways to customize your bots & 14 game modes. From knights and dinosaurs, to bounty hunters and space warriors. Choose, customize and crush tons of different bots.
---
Share a heart-to-heart talk, watch a movie together, take a bath, remove a computer virus, help a girl in a tough spot and – if you're lucky – find the love of your life using the color and pattern of her panties. Pantsu Hunter: Back to the 90s is an adventure game with point-n-click elements (with a risk of swift loss) that tells the story about a guy looking for love renovated in a nostalgic 80s and 90s anime style.
---
The gods of old are forgotten, lost in the events that shattered the world, leaving only fragments of islands in the sky. This mystic world of endless skies, colorful islands and ancient ruins is in danger of falling into darkness. As one of the last few shapeshifters, you are sent on a pilgrimage to the Land of Gods. Uncover the secrets that will help save reality itself.
---
A thrilling, heart-pounding struggle! Humans have 3 minutes to work together to get away from the Monster! Playing as the Monster, you'll have to utilize your skills to catch the Humans! Play Bogeyrun! online or offline with up to 4 players.
---
Challenge yourself to a new kind of bullet-hell fusion shooter. Change your aircraft to get new skills just when you need them against advancing foes. Aim for the top!
---
Humanity was pushed to the brink of extinction, but a few survivors escaped underground and began analyzing the GEAR System to prepare for a counterattack. The war between humans and RAGE was exceedingly fierce, but thanks to the counter-RAGE organization [Freyja] and a certain GEAR mercenary, they steadily began recovering key locations on the surface. In 2112, over 50 years after the war began, humanity reclaimed Japan from the RAGE. 30 years later, in the [Cosmopolis] built upon Osaka, a pilot with an inherited [GEAR] and huge [debt] sets out with his Operator to become a Ranker in the Arena. It will not be a story for the history books, but simply a battle for their freedom…
---
You play as Agent A in this stylish secret agent world full of retro futuristic contraptions, hidden gizmos, gadgets and clever logic based puzzles. But do be warned… Ruby La Rouge is no spy to be taken lightly! Explore a labyrinth of perplexing puzzles in this quirky game of cat and mouse that'll have you wondering whether you're the cat… or the mouse!!
---
Heave Ho tasks up to four players with a simple goal – don't fall to your death! Players will use their own two hands and the outstretched grip of their friends to grapple across each level on their way to victory. Grab one another's hands, climb across dangling bodies, and swing your pals to safety in a wobbly, dangly mass of limbs. Customize your character with all manner of stylish accessories and zany accouterment in a vain attempt to remember who you are and which of your hands is the only thing between you and the plummet of doom.
---
Little Racer is a dynamic racing game and a great adventure harking back to your childhood. Enjoy various tracks, avoid obstacles and speed for the win. Take the wheel, choose a kart and start the wild ride!
---
Oinker P. Hamm is determined to capture every animal in the universe for his "Amazootorium." Bubsy, fearing mostly for himself, is just as determined to stop him. Two archrivals, stitched together by the cruel knitting needles of fate. No matter who emerges victorious, there is one thing we know for certain: There's going to be a whole lot of yarn along the way.
---
Vambrace: Cold Soul is a roguelike fantasy-adventure set amidst a frozen landscape. Plan your expeditions underground, then journey to the cursed city surface with your team of heroes. Wield unique powers, avoid dangerous traps, brave strange encounters, and survive deadly combat!
---
In the main game you can play solo or work together with friends to complete the levels before time runs out! It doesn't stop there though, online leaderboards mean that it's not good enough to just complete when you can compete! Can you get the quickest time?
---
Omen Exitio: Plague inspired by the gamebooks of the '80s and '90s, mixing the alien and horrifying universe created by H.P. Lovecraft.
---
Immerse yourself in the world of Decay Of Logos and unravel its mysteries. Explore old dungeons, battle unforgiving foes and journey through a vibrant interconnected fantasy realm with your mystical elk companion.
---
Wilmot's Warehouse is a puzzle game about keeping a warehouse running in tip-top shape. You play as Wilmot, a hard working warehouse employee tasked with pushing, sorting and stacking a variety of products. Over time more and more truckloads of these products will arrive, gradually filling up the warehouse. How you arrange them all is entirely up to you – organize by color, type, the Dewey Decimal System, or some wild format that only you understand – it's all good! Just remember where you put everything, because when the service hatch opens, you'll need to find the things people want quickly, in order to earn the coveted Performance Stars required for all manner of labor-saving upgrades.
---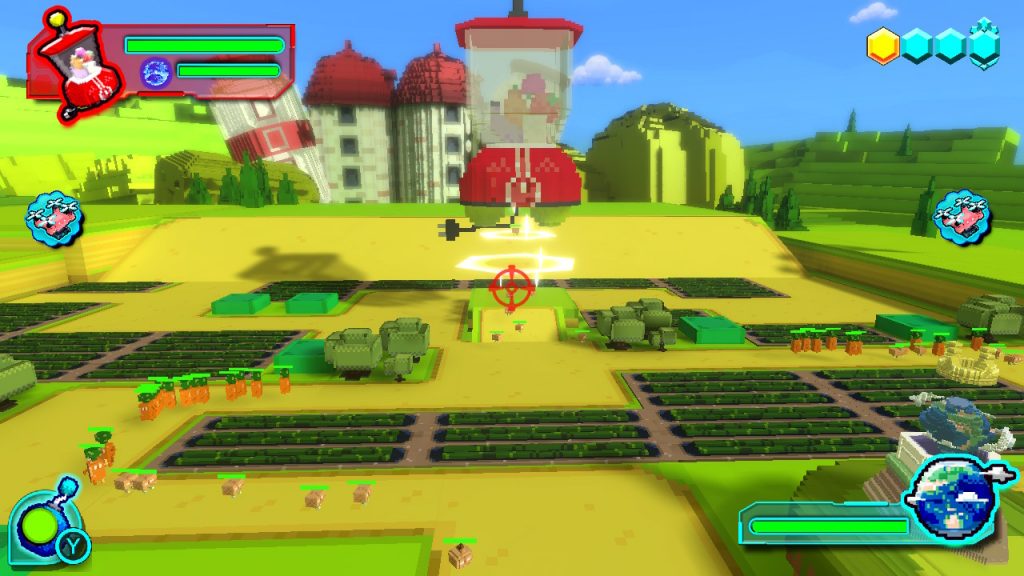 Aliens raid Earth! Arm weapons batteries! Guard the base! Shoot 'em all!
---
Headspun is a FMV/Adventure hybrid set in Cortex; the world of Theo Kavinsky's broken brain.
After waking from a five week coma, Theo finds his life in disrepair. With no memory of the accident, it's up to Ted and Teddy – the conscious and subconscious voices in his head – to work out what happened, and put his life back on track.
---
Humanity's last chance against an interdimensional invasion is a special living weapon called the Legion. As a rookie officer in the elite police task force Neuron, you and your Legion will work together to solve cases and save humankind.
---
Legend of the Skyfish features beautiful hand-painted art, intricate action puzzles and unique enemies. Explore a huge world of 45 handcrafted levels and defeat giant bosses.
---
Step into the boots of Grayson Hunt, an exiled member of the elite assassin group Dead Echo, after a battle with his former general sends them both crash landing on the abandoned resort planet of Stygia.
---
No run will ever be the same with randomized stages, enemies, bosses, and items. Play solo, or team up with up to four friends to fight through hordes of monsters, unlock new loot, and find a way to escape the planet. Additional survivors, stages, items, enemies, and features are still in active development and will be added in multiple free content updates.
---
(Congrats to all the developers and their teams that released a new game this week!)
NOEN (@hashtagNOEN)