(SNAPP Reviews aren't really full-fledged game reviews as much as they are just a way for us to give you a quick "heads-up" on whether a game is good or not. It usually means that we haven't finished the game yet, but have played a good enough chunk to know if it's worth your time or money.)
I was surprised and excited when I saw Willy Jetman: Astromonkey's Revenge pop up on the App Store. It's been on my eShop wishlist since it originally released on the Switch. The game is a love letter to the classic side scrollers of the 90's. You play as a street sweeper named Willy as he gets mixed up in an environmental disaster on a faraway planet. Willy Jetman is a fun game with plenty of polish. There's nothing better than hopping around on your jetpack, shooting down enemies, and of course,……recycling! The levels are absolutely beautiful with some of the best pixel art that I've seen. Willy Jetman as a game is great. It's the controls that I have an issue with. I know that it's a port, but everything feels like an afterthought. The v-stick and buttons are really small and can't be adjusted. Not to mention, the menus can only be used with virtual button commands instead of simply tapping the screen. I found myself constantly hitting the wrong buttons or using my jetpack when I didn't need it. The controls are a little better on the iPad, but they're still fairly small. Either way, I'm really happy to see Willy Jetman on mobile. With an update to the controls, I can see this game being an iOS classic. The game is "free to try", so it doesn't hurt downloading it and judging for yourself.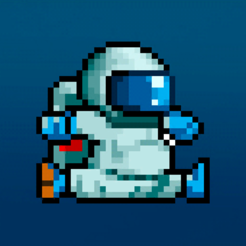 Willy Jetman: Astromonkey's Revenge is also in this week's iOS Roundup!
NOEN (@hashtagNOEN)
(SNAPP Attack really needs your help! If you can afford it, please support the site by joining our Patreon or donating to our PayPal. The future of SNAPP depends on it.)