(The SWITCH Roundup is an ongoing daily article showcasing recently released noteworthy titles on the eShop. New games are updated as soon as possible, so check back often.)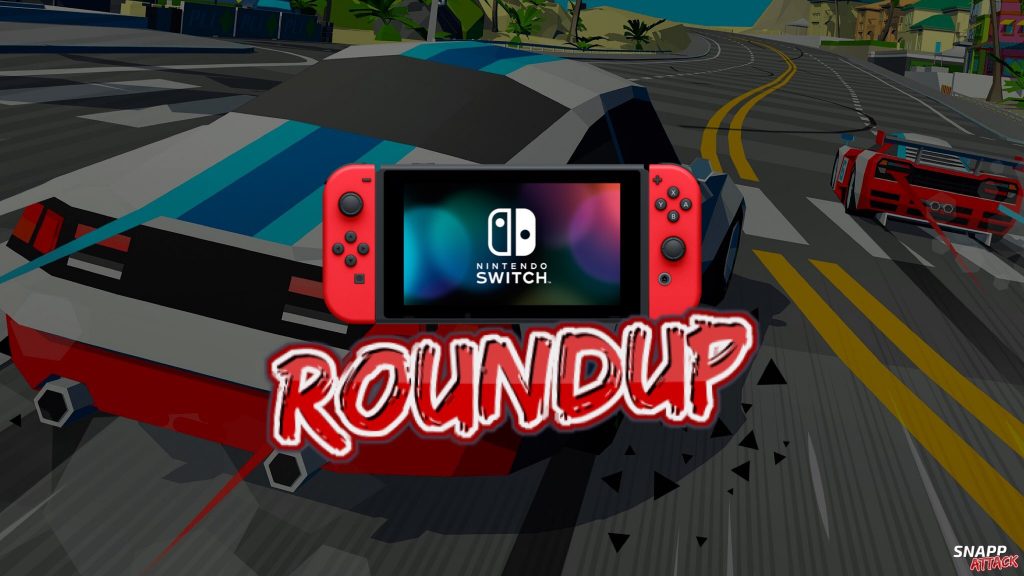 IT'S ANOTHER NEW RELEASE WEEK ON THE eSHOP GLITCHES!!
Hopefully everyone had a great 3-day weekend! I'll be quick and get right into things. This week is already looking pretty solid with games like Party Hard 2, Hotshot Racing, Bounty Battle, and a bunch more! So, let's get this party started. Here's this week's all new Switch Roundup!
---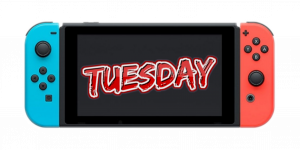 Welcome back to the extended Party Hard universe! Choose from hundreds of ways of dealing with noisy partygoers, incidentally destroy a drug syndicate, and save the Earth from an alien invasion. May the chickens be with you! You just want to get some sleep… But it's 3am, and once again your neighbors are having a loud party. You have to finally put an end to it–by any means.
---
Belt up and blast into the rhythmic regions of unexplored space in AVICII Invector. Created in collaboration with the late superstar DJ, AVICII Invector is a pulse-pounding, frenetic rhythm-action experience.
Soar through vocal melodies, sweep each fade and attack every beat in 25 of AVICII's biggest hits, including global chart toppers: Without You, Wake Me Up and Lay Me Down.
---
OkunoKA Madness is a platform game in which you play as KA, a blue-coloured hero who must save the world of souls from the evil hands of Os, his deadly enemy. You will have to jump, run and overcome obstacles through unique and colourful worlds with more than 100 levels, go head-to-head with wacky bosses, find hidden secrets, lots of surprises to unlock and an even more difficult world: Madness!
---
VALENTINA is a Brazilian indie game. Set in an enchanted kingdom, where Valentina, the player's character, with her bow and arrow faces monsters and surreal beings to save her kingdom and friends.
---
Meganoid is a challenging platformer, generating new levels on every play session. Find many items to enhance your character and his abilities while you descend down into the Meganoid space ship. Do you rush for the exit, or do you take your time to collect everything there is, barely escaping the security drones that will hunt you down if you linger.
---
No flashy over the top effects, just combat influenced by classic Kung Fu films. The game features authentic fighting sounds from films and a licensed soundtrack with great music from classic kung fu movies. Shaolin vs Wutang is a real love letter to classic 70's and 80's Kung Fu cinema. This is a indie passion project that was made by one person who has tremendous passion for, and knowledge of Kung Fu films. We hope to provide players with a satisfying gaming experience blended with nostalgia and reminiscence of the great Kung Fu films.
---
Help Circuit Dude build his ultimate secret invention by plugging in chips, pushing blocks, stepping on switches, rotating walls and so much more in this game featuring over 15 hours of gameplay over 120 levels. If that's not enough, you can design your own master contraptions using the in-game level editor and even upload it to the internet for others to try out! What is Circuit Dude building? Finish the first 100 levels to find out!
---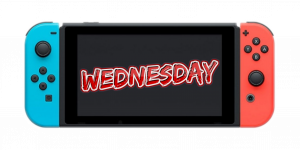 ---
The world has been taken over by an alien invasion. On the eve of destruction, humanity calls out for help! Takotan is a retro shoot'em up inspired by 16-bit classics. Save the world from alien invasion by shooting and dodging your way through 8 action-packed levels with sinister bosses! Collect a variety of power-ups including lasers, bowling balls and ninja stars to take down enemies and defend the planet.
---
An epic journey begins…with YOU! Become a master game developer with RPG Maker MV. With an arsenal of tools at your fingertips create elaborate, exciting, and memorable video games straight from your console! Then, share your adventures online with other players, who can enjoy your epic chronicles! The possibilities are endless with the latest and greatest RPG Maker software. With hundreds of assets and an infinite number of ways to create your game, turn your dream tale into the next greatest video game!
---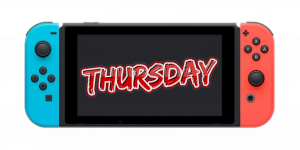 After crashing into an abandoned colony base overrun with hostile life, you must find a way to survive the elements armed at first with only a gun and wrench. Find friends and upgrade your way to victory.
---
Spin and smash through the colorful, chaotic worlds of Tin & Kuna. Explore levels filled with puzzles and peril. As Kuna collects power crystals, he obtains special abilities; jumping higher, catching fire, and attaching to magnetic objects to rescue Tin. Use all your skills and abilities to bring the world into balance and defeat Chaos!
---
Wintermoor Tactics Club is a story about surviving high school, with gameplay inspired by tactics RPGs and visual novels. It was hard enough for Alicia at the famed Wintermoor Academy before it erupted into a snowball war! Now her club's only hope is to transform from nerdy nobodies into fantasy heroes. Unravel a reality-bending mystery. Test your strategic mettle against an avalanche of colorful characters. And don't forget to make friends!
---
Welcome to the next evolution of the classic side-scrolling action platform game! Journey with Pip as he sets out to save Princess Adeline from the evil Queen DeRezzia. Pip's quest begins when he learns he can absorb the Bitstream from his fallen foes to evolve and devolve between three different forms – single pixel, 8-bit, and 16-bit! Each transformation provides different powers that Pip can use to solve environmental puzzles and blast through enemies. Pip's tale leads players through five different stylized worlds with up to 10 hours of epic adventuring gameplay.
---
It has been centuries since the Master Bakers left the World of Fla, the fabled lands of living Dough. But something is rising again. The Mould is back! More powerful and infectious than ever before. It's spread to all corners of the World, gobbling up every species of Dough it comes across. Turning them sour. Changing their behaviors into twisted versions of their former selves. As the World crumbles above, the ancient Guardians rumble below. Awoken from their slumber to fulfill their sworn duties to protect the Doughy creatures of Fla. However, hundreds of years of hibernation have not fared the Guardians well. They are hangry. Real hangry. With an insatiable penchant for baked goods. So, the Bakers must bake. Sacrificing the adoughrably cute Bun creatures to win favor with the Guardians; their only hope of vanquishing The Mould.
---
In this narrative-based game, you take the role of the Grim Reaper… on an office job. Your job is to decide which people are going to live or die. Your choices will affect the world around you. Keep the chaos away or foil plots to destroy the world and rise through the ranks of Reapers all the way up to MIDDLE-MANAGEMENT, wow!
---
Descend into Humanity's last hope. The Daughters, echoes of the greatest warrior to ever live, are all who stand before Suffering and death. Lead your army of Daughters to battle. Your prowess in combat will shape their abilities and personality. Make the toughest decision and sacrifice one to heal another – survivors will get stronger, ready to fight the next battle. Combat is an intricate dance of spectacular actions and counters: plan ahead of time and set up impressive chains of abilities to outsmart the enemy. Fight in epic boss battles against the sources of Suffering – dread creatures pulled from the worst of Humanity's crimes against itself.
---
Through the moist, pitch-black darkness the eerie sounds of giant machinery can be heard. In an advanced facility that has been invaded by otherworldly beasts and local inhabitants, the fully-automatic system controlled by the main computer is still operating like a mad man. Awakening inside an abandoned laboratory, the green, ambiguous lifeform MO discovers that it not only has to face an extremely hostile and sinister environment, but it also must face humans who, having been taken over by alien parasitic plants, are now stuck in the endless limbo between death and rebirth. What's more, there seems to be an eerie presence that's watching all of this from the shadows. After groping around for clues, MO gradually becomes aware that it is responsible for a mission of immense importance. Under the guidance of the mysterious mutterings in its ear, MO is able to overcome one obstacle after another.
---
Bounty Battle is the ultimate indie fighting game: a new 2D fighter, where you can pit your favourite Indie heroes against one another! Indie heroes from games like Guacamelee! Dead Cells, Darkest Dungeon Owlboy & more battle it out in this fighter frenzy. Bounty Battle features over 25 fighters from over 20 different Indie games! Each fighter comes with their own Minion companion and unique abilities. Battle across levels inspired from the fighters' native game worlds with up to 3 other players.
---
Ink and blood stain the streets of Ramezia. Witches must burn and sins must be judged. Venture forth as Sister Semilla to burn down the pillars of heresy in Minoria, an action-platformer by the creators of Momodora.
---
Hotshot Racing is a blisteringly fast arcade-style racing game fusing drift handling, razor-sharp retro visuals and an incredible sense of speed to create an exhilarating driving experience. Developed by racing game veterans SUMO Nottingham and Lucky Mountain Games, Hotshot Racing is an all-new driving experience which revives the classic arcade gameplay of the 90s and thrusts it into the modern era.
---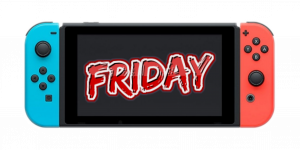 Jump, fire, dash in midair and save the Facility from burning; FIREWORK is an action platformer in which heart echoes games like Megaman and Cave Story.
---
Golf Zero is a cute, fun and original little game with a mix of clever golf platforming gameplay. To sink a putt you must jump, sprint or slide while avoiding unconventional hazards like brutal boulders, whirling saw blades, or zinging bullets as the challenge increases.
---
Doodle Derby is a devilish physics racing platformer inspired by smashing all the stuff from your childhood toybox into each other. Anything is possible in the least realistic car game ever. In Doodle Derby you must build the track before trying to reach the goal of the level. Complete your new cool track additions and push your luck! Can't do it? Rebuild it.
---
Set in a 90's retro future, Inertial Drift is an Arcade Racer with a devastatingly unique handling model and unbelievably satisfying twin-stick drift mechanics. Inertial Drift offers a whole new level of accessibility and challenge to the arcade racing genre – for a driving experience genuinely unlike anything you've played before.
---
Open world Action RPG with a rich quest-based narrative, multiple combat styles, an advanced progression/inventory system and lots of travels and discoveries.
---
CONGRATS TO ALL THE DEVELOPERS AND THEIR TEAMS THAT RELEASED A NEW GAME THIS WEEK!
NOEN (@hashtagNOEN)
🚨🚨(SNAPP Attack needs your help! If you can afford it, please support the site by joining our Patreon or donating to our PayPal. The future of SNAPP depends on it.)🚨🚨