(The SWITCH Roundup is an ongoing daily article showcasing recently released noteworthy titles on the eShop. New games are updated as soon as possible, so check back often.)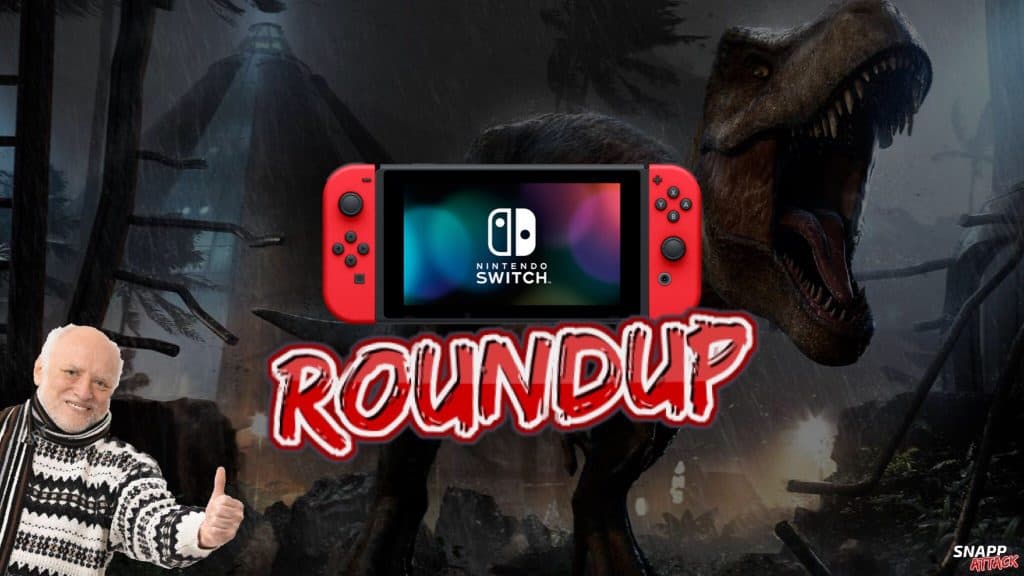 IT'S ANOTHER NEW RELEASE WEEK ON THE eSHOP GLITCHES!!
As the holiday season creeps closer, the weeks are going to get more and more packed with games. This is always a great time of year for gamers! This week is shaping up to be another stellar week with games like Jurassic World Evolution, Gunslugs, Descenders, and a bunch more! So, let's get this week started! Here's this week's all new Switch Roundup!
---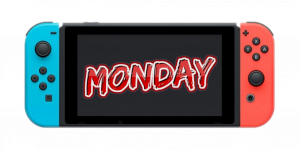 Solve puzzles, avoid traps, and gallop madly to uncover ancient llama treasures!
---
What starts out as a simple pizza tossing fun turns into something much, much more. Push through the glitchy arcade game to reveal that you are at your own Freddy Fazbear's Pizzeria! Browse our catalogs and purchase your first attractions and animatronics, customize your decorations, and above all make sure that all the equipment is working properly before opening the doors of your brand new Freddy Fazbear's Pizzeria!
---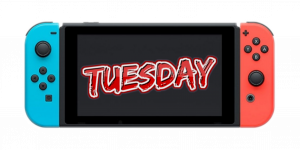 Gunslugs is a fast paced run and jump game with procedurally generated levels. You get one live, and the only way
you can extend that is by running into the Voodoo priest selling continue statues !
---
A great unknown danger is approaching Roah's home planet. Follow Roah as she explores the world and encounters all of its different factions, uncovering the mystery of what is draining the planets lifeforce. Roah has a big open world with new abilities, skills and moves to obtain and master. It features unique fighting-game inspired combat with tons of different moves to perform.
---
In Lunch A Palooza players enter frenetic food fights as one of eight dishes, pushing other delicacies off the table in single player or multiplayer for up to four people. Pepper your character with power-ups to spice up your unique attacks. When dishing out the pain anything goes, from serving side dishes to sweep up the competition, to setting up push traps to clear the table for the next sitting. Remember, the dinner table arena is a hazardous place for food with flying enemies that always trying to nab a piece of you.
---
Bakugan: Champions of Vestroia is an all-new action role-playing game with an original story that expands on the hit TV series and brings the Bakugan universe to the Nintendo Switch for the very first time. The adventure takes players on the ultimate Bakugan journey as they befriend powerful creatures known as Bakugan, gear up and customize Bakugan teams for fiercely strategic battles, and master their skills to become the Champion of Vestroia. Players can also play online in head-to-head multiplayer.
---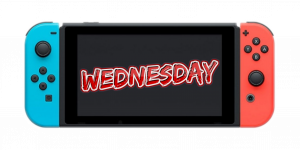 Build your own Jurassic World for the first time or relive the adventure on the go with Jurassic World Evolution: Complete Edition! Packed with every piece of downloadable content available, Jurassic World Evolution: Complete Edition for Nintendo Switch includes all three major narrative expansions – Jurassic World Evolution: Return to Jurassic Park, Jurassic World Evolution: Claire's Sanctuary, and Jurassic World Evolution: Secrets of Dr. Wu- as well as four Dinosaur Packs and the Raptor Squad Skin Collection.
---
Trapped inside an ancient labyrinth, chased by the mythical Minotaur. Will you reach the center? And if so, what will you discover about yourself there, in the dark? There is but one enemy…
But it is the unbeatable Minotaur. Only by exploring the maze of the Labyrinth can you hope to discover how to defeat this immortal monster. The great maze has many tools, many rewards, and many secrets just waiting for you to find them. But you can't waste your precious time, for the Minotaur is getting ever closer.
---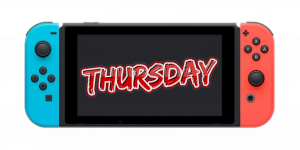 A wild tale of love, death, chickens, and redemption! Chicken Police is a buddy-cop noir adventure, with a carefully crafted world, a gritty story, and lots of absurd humor
---
Visit major cities around the globe in the World Tour, the stars and planets of the Milky Way in the Galaxy Tour, and time periods inhabited by dinosaurs, pirates, and samurai in Time Rider!
---
The Kingdom is in danger, and the oldest and wisest wizard in the land is the only power holding a nameless villain at bay. Three heroes set out to find the Old One and aid him in his struggle against this mysterious terror, with help from a host of powerful allies who will join the quest to defend the realm.
---
Iris and the Giant is a fusion of a collectible card game with RPG and roguelike elements. You play as Iris, who must brave her fears in her imaginary world. Behind the game's unique minimalist art style players will explore a touching story of a young woman facing her inner demons and soothing the raging giant inside.
---
Seven Knights, a game beloved around the world thanks to its gripping story and unique characters
is reborn as a traditional RPG for home console
based on the original's universe and gaming system.
---
Her world: destroyed. Her family: kidnapped. Join our heroine Yui in a desperate attempt to save everything she loved! YesterMorrow is a single-player time-travelling 2D platformer mixing action sequences with puzzle elements. Follow Yui's adventure into the past where she must overcome obstacles and access hidden locations to salvage the remnants of a world trapped in Never-ending Night. Intent on helping the remaining survivors and freeing her family from the clutches of Shadows, what she discovers along the way will leave her with a difficult choice: what will she choose when the fate of her world and the Order of Timekeepers rests in her hands?
---
A thousand years ago, a great battle ensued between two dragons, one gold and the other silver, where they were sealed away. Many centuries later, the Silver Dragon reawakens, and launches an assault on a frontier village.
Lucas, a royal knight serving as a guard, little does he know he is, in fact, a descendant of the hero who once sealed the Gold and Silver Dragons in human form. Nonetheless, when the tragedy strikes, he soon sets out on an adventure to save the world!
---
As the city burns and the countryside is engulfed by the epidemic, you're now alone and forced to live with this new reality. Monstrous beasts and disfigured remnants roam freely with their numbers increasing rapidly. Scattered and separated from your fellow survivors, you've fled into a large manor estate to escape the relentless horde. Your only goal now is survival. Explore the manor, locate supplies and find a way to wake from this nightmare. But somehow… you know your fate is already sealed.
---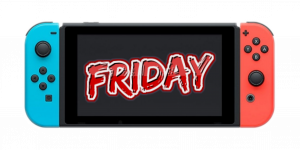 Descenders is extreme downhill freeriding for the modern era, with procedurally generated worlds. Will you lead your team to glory and become the next legendary Descender?
---
The Tropico 6 – Nintendo Switch™ Edition includes an exclusive palace design, the captivating flamingo pond, something every dictator craves to impress his neighbouring states and a tourist costume for El Prez to enjoy those warm caribbean nights adequately.
---
The beautiful hand-drawn adventure takes place in a quiet little town where a few ordinary people live together with some more unusual characters. From a World War II veteran to an elephant taking shelter in a man's cottage hoping to become a human, everyone in Memoranda has one thing in common: they are all on the verge of losing something. It could be a name, a loved one or even their own sanity!
---
Ride your bike through increasingly tricky levels while pulling off daring stunts, huge combos, tests of accuracy and skill!
---
Red Rope: Don't Fall Behind is an arduous challenge, a cathartic ritual that only the most valiant players will be able to carry out, be they fearless lonely travellers or couples with a strong elective affinity.
Explore the Labyrinth, get acquainted with its bizarre inhabitants, its secrets and its rules. Face enemies, traps, puzzles and ferocious bosses. To escape the Labyrinth you will have but one weapon: the rope that binds you together.
---
Ord is a unique take on text adventure games with a minimalist use of words, visuals and sound. Play unique stories with 3 words only! Ord will make you laugh and cry through its original approach to narrative and game design. You have to experience Ord to see for yourself!
---
CONGRATS TO ALL THE DEVELOPERS AND THEIR TEAMS THAT RELEASED A NEW GAME THIS WEEK!
NOEN (@hashtagNOEN)
(🚨‼️💥SNAPP Attack needs your help! If you can afford it, please support the site by joining our Patreon or donating to our PayPal. The future of SNAPP depends on it.‼️💥🚨)